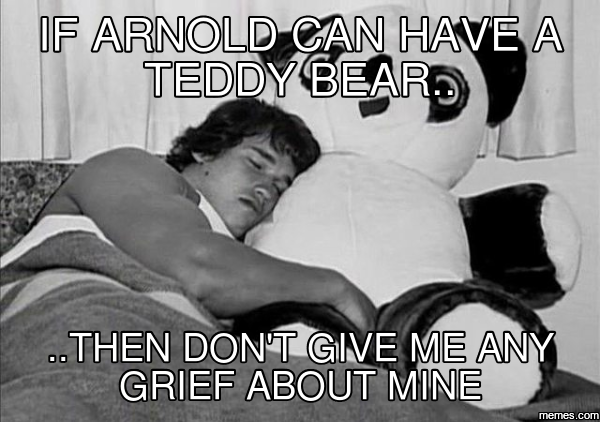 I think just about everyone had a teddy bear at one point, didn't they?
My father had one named "Boo Woo".
I had a number of teddy bears, with different names.  One of them, I'd take the tag and stick my thumb in it before sucking.  For some reason, it made my thumb taste better, although sometimes I'd get it caught.
If you've been reading my blog for a while, dear readers, I shouldn't have to remind you of some of the ugly parts of my childhood.  I was bullied and abused at school and church as well as home, especially during my preteen years in middle school.  I think that was about the time that I finally started to banish cuddly toys from a space on my bed.
Rather odd that any boy would bully another over that, though, considering the history of the teddy bear.
I came back to cuddly toys after marrying Cimmorene.  She offered me Milo, who still occupies a space in the master bedroom (EDIT: Milo has been deployed to England with another survivor.  A plushie dog Cimmy named "Bill" now has his old position). She decided to buy me a Bekin-made bear, whom I named "Buster" for the movie Phil Collins made famous.
Because I was still sensitive about being bullied, I'd loan him to my children, especially my son.  I'd tell him Buster needed to store up more hugs.
Sister #1 used to collect Beanie Babies.  She decided to gift her collection to my folks so that grandchildren (mostly my children, and my niece and nephew who are Sister #2 JenntheAmazon's kids) could play with them.
This delighted Princess to no end:
It wasn't too long until Boy started loving on the Beanie Babies.  His current case manager for counseling has a small collection in her desk drawer, and it turns out that one of them ("Goatie") was the very same kind I sent Aussa for a bridal gift.
Of course, I was just expecting that she'd quietly get the gift of the Beanie Baby and the "got goats" window decal, with little fanfare.  Nope!
I just about fell out of my chair when I saw that tweet.  No way could I shrug it off, saying, "Well, it was cheap."
So it was just easier to tweet about the awesomeness of Beanie Babies.
When I first started having back pain, Cimmy got this snake Beanie Baby for me.  I can't remember what the Ty corporation gave it for a name, but I dubbed him "Bruno".  He's currently guarding my mini red wastebin full of scissors and pens and is on the shelf just above my computer monitor.
Anyways… my point in all these rambling stories is that hugs are essential, and as a survivor, if I can't get one right away from a loved family member or friend, I will take it from a cuddly buddy, even if it's not alive.  I am lucky that living creatures will give me physical touch, however– this includes my parents' talkative cat, Skittles:
to Jenn's stupid but loveable beagle mix, Dexter:
and a schnauzer named Oscar, who barks his fool head off whenever anyone comes to visit.  (Jenn probably hasn't done a video with him because he's just too excitable.)
Princess gets really stressed out when Cimmorene and I fight and argue, and, no surprise, she feels that her little brother is a chi vampire (meaning, he steals energy, or more literally, in Western terms, "the breath of life").  Yes, I know that's not quite fair– he can't help his struggles with autism– but, it's still difficult.
After an intense family council meeting reviewing our mood charts (we made some so Boy would better be able to recognize emotions), she drew a rather raw, dark portrait of herself.  So, if you look at the image just above, I gave her a hug, without too many words.  I let her hold it as long as she wanted.
Dear readers, we survivors need hugs.  Are you part of the 1000 Voices for Compassion movement?  What more can we do to be more compassionate towards each other?
Special thank you to Serins, who sends us hugs in her comments.
Related articles